Screening Mammogram
A screening mammogram is an annual exam to screen for breast cancer in women without symptoms. We integrate the accuracy of 3D mammography with SmartCurve comfort technology to deliver a better mammogram.
3D mammography is the most effective breast cancer screening tool available today. SmartCurve, the revolutionary curved mammogram, is shaped like your breast for greater comfort. Experience 3D and SmartCurve comfort at your next visit.
Image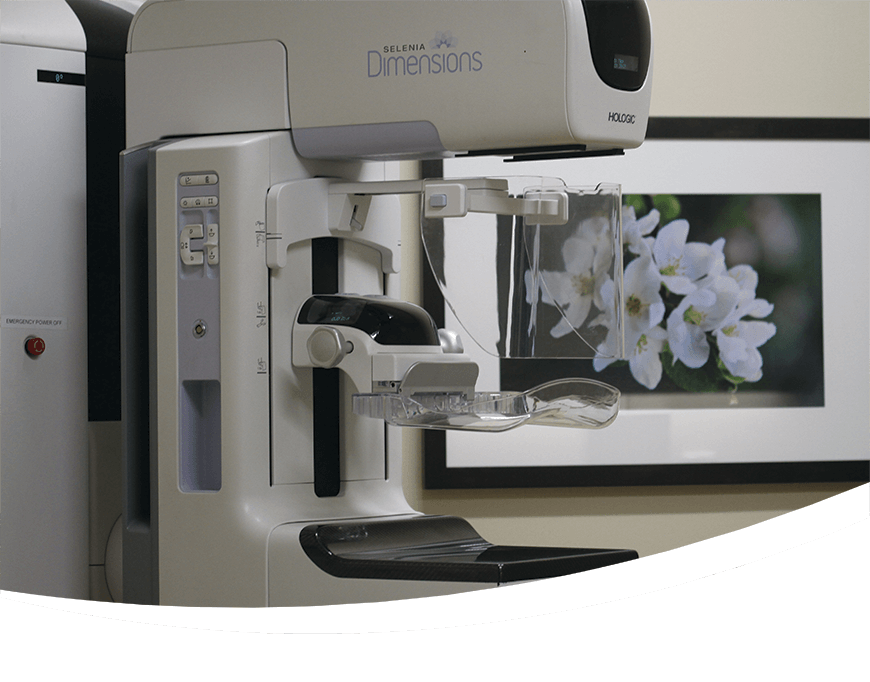 No physician's order is required for a screening mammogram. Conveniently schedule online now.
I can't say enough great things about this place. The facility is clean and professional looking - has a "spa like" atmosphere. The staff were amazing. Everyone from check-in to check out.... The 3D mammogram with the curved plates did not hurt at all. I would highly recommend this facility for your breast health needs!

Kandice, Patient
Insurance Coverage
Many major insurance carriers cover 3D screening mammograms as a part of preventive care.
Don't have insurance?
All of our centers offer self-pay pricing. Eligible individuals may also qualify for our Value Screening Program. Please call 469-398-4099 for more information. 
Preparing for Your Screening Mammogram
On the day of your exam:
Wear a two-piece outfit. You will only need to remove your top and bra

Don't apply deodorant prior to your exam. It can show up on images as white spots and cause an unnecessary return visit

Avoid using lotions, powders, creams or perfume on the day prior to or on the day of your exam
Please note:
If this is your first exam with Solis Mammography, bring your records or have them transferred prior to your appointment. Delay in transferring records can result in the delayed delivery of mammogram results

Please arrive 15 minutes prior to your appointment

If you have any questions prior to your appointment, please call us
Screening Mammogram FAQs
What is a mammogram?
A 3D screening mammogram uses advanced x-ray technology to capture multiple images of the breasts. During the exam, each breast will be compressed between two surfaces, one of which may be a curved SmartCurve paddle designed to more comfortably contour to your breast.
How does a 3D Mammogram work?
The 3D mammography machine moves in an arc over the breast, capturing multiple images while the breast remains stable. Compression will only last several seconds per breast and is necessary for capturing clear, accurate images. Once the exam is complete, a breast radiologist will evaluate the images for signs of cancer, as well as breast tissue density and non-cancerous findings.
What happens during a screening mammogram?
If you are a new patient, you will need to send any previous mammography records to Solis Mammography prior to your appointment. Your old records will be compared to your new exam images for a thorough evaluation by our breast radiologists. At your appointment you will check in and then undress from the waist up. We provide comfortable privacy capes to wear during your visit. A highly-trained mammography technologist, who is skilled at getting the highest quality images, will guide you through the exam. Solis Mammography provides email results typically within two business days.
How long does a screening mammogram take?
Plan for your appointment to last between 30 minutes to an hour. Many women schedule their mammograms during their lunch break or in between other activities. Solis Mammography makes the process as easy and quick as possible with online scheduling, digital iPad check in, and results delivered via secure email in two business days.
Why do I need a screening mammogram?
Breast cancer is one of the most commonly diagnosed cancers in women, with more than 260,000 new cases of invasive breast cancer diagnosed in the United States each year. Mammograms are considered to be the single most effective screening test for breast cancer. In fact, there is no other cancer screening test in medicine as effective as mammography.
At what age should I begin having a mammogram?
The Society of Breast Imaging, the American College of Radiology, and additional leading breast health organizations, recommend annual screening beginning at age 40. Your first mammogram, also known as a baseline, typically occurs between the age of 35-40 depending on genetic and personal risk factors or upon the advice of your physician. 
How often should I have a screening mammogram?
It is recommended that women age 40 and older of average risk receive a screening mammogram once per year. While breast cancer is not preventable, it is curable if detected early. An annual screening mammogram coupled with monthly breast self exams is the recommended breast health regimen for women over 40.
Can I have a mammogram if I have breast implants?

Yes, our mammography technologists are trained to perform exams on women with breast implants. Please note, however, that we may not be able to use SmartCurve. Your technologist will determine this at the time of the exam.
2D vs 3D Mammography
2D mammography takes two x-ray images of the breast, one from the top and one from the side. 3D mammography takes multiple images from many different angles. It provides better visualization, an improvement in early breast cancer detection, and a reduction in unnecessary callbacks. It also provides greater screening accuracy for women with dense breasts.
Mammogram callback: What happens if an abnormality is found?
If an abnormality is found during a screening mammogram, you will be contacted to return for a diagnostic mammogram. A diagnostic mammogram is similar to a screening mammogram, however, it includes additional views of a specific area of the breast. Your diagnostic mammogram will be reviewed by a breast-specialized radiologist, who will share the results in a consultation with you before you leave your appointment.
Where to get a mammogram. Find a 3D Mammogram near you

Solis Mammography has locations near you across the United States.  You can select the Solis Mammography location closest to your work or home. If you are a first-time patient, we can help you transfer your records from your previous provider with ease.