Diagnostic Mammogram
A diagnostic mammogram is used to investigate suspicious breast changes, such as a new breast lump, dimpling or puckering of the skin, pain in the breast, or nipple thickening or discharge. A diagnostic mammogram includes additional targeted mammogram images used to evaluate the abnormal findings of a screening mammogram.
Image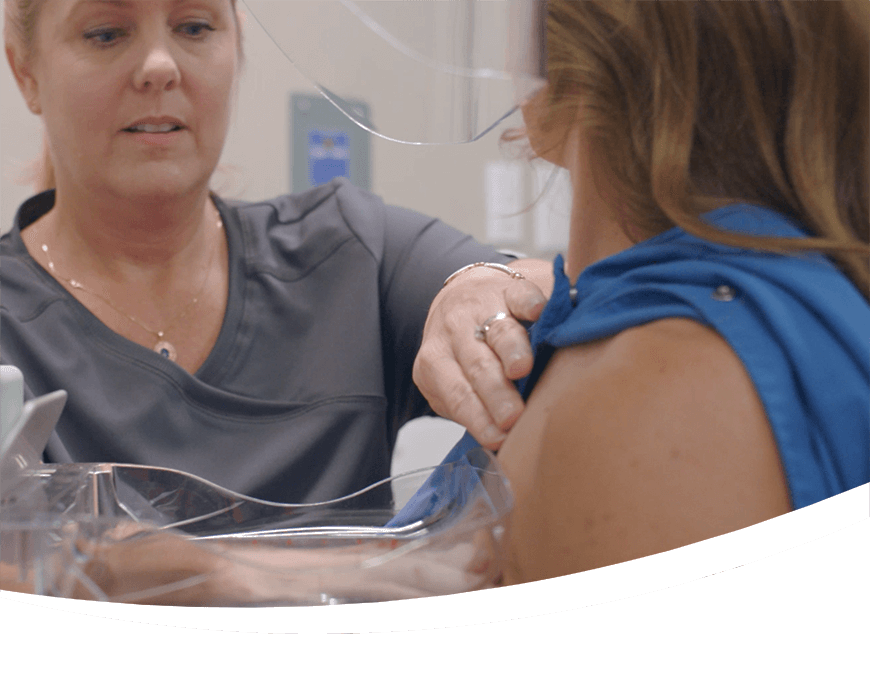 I truly can't say enough good things about this place.

The facility is state of the art. 3-D Mammograms and interpretation by the Physician at the end of your visit...

The staff is caring, personable and professional. For those of us who know that "time is of the essence," this is definitely where you want to be.

Kathryn, Patient
Don't have insurance?
All of our centers offer self-pay pricing. Learn more by visiting our FAQ page or call our Insurance Hotline at (469) 398-4099 for more information. 
Preparing for Your Diagnostic Mammogram
On the day of your exam:
Wear a two-piece outfit. You will only need to remove your top and bra

Don't apply deodorant prior to your exam. It can show up on images as white spots and cause an unnecessary return visit

Avoid using lotions, powders, creams or perfume on the day prior to or on the day of your exam
Please note:
If this is your first exam with Solis Mammography, bring your records or have them transferred prior to your appointment. Delay in transferring records can result in the delayed delivery of mammogram results

Please arrive 15 minutes prior to your appointment

If you have any questions prior to your appointment, please call us
Diagnostic Mammogram FAQs
What is a diagnostic mammogram?
A diagnostic mammogram is performed if there is reason for further evaluation by a radiologist. Just as in screening mammography, diagnostic mammography uses 3D technology to produce detailed images of the breast.
Unlike a screening mammogram, a diagnostic mammogram captures targeted pictures of individual areas in the breast tissue, which warrant additional examination.
How much will a diagnostic mammogram cost? Will my insurance cover this procedure?
Coverage of diagnostic services may differ depending on your insurance provider. For questions about pricing and coverage, we recommend you call the Solis Mammography insurance and billing team at (469) 398-4099.
Why are a doctor's orders required for a diagnostic mammogram?
An order from your physician is required for all diagnostic services, including diagnostic mammograms, as a part of the continuum of care provided to you by Solis Mammography and your physician of record. Results of your diagnostic mammogram will be delivered to your physician, who will be an integral part of the diagnostic and, if needed, treatment process.
What should I expect during a diagnostic mammogram?
A diagnostic mammogram is similar to a screening mammogram with one main difference. During a screening mammogram the goal is to adequately capture images of tissue in both breasts. The goal of a diagnostic mammogram is to provide clarity around a targeted area, typically in a single breast, or as a follow up after surgery or a found abnormality. During a diagnostic mammogram you will have direct interaction with a breast radiologist.
Reasons for a diagnostic mammogram
You may be referred for a diagnostic mammogram as a follow up to a screening mammogram that resulted in inconclusive results or that identified an area of concern that warranted further evaluation. Women who have been previously diagnosed with breast cancer and those who are in need of short-interval follow ups may also be referred for a diagnostic mammogram. It is important to note that most diagnostic mammograms result in benign findings.
Reasons for a diagnostic mammogram include:
Supplemental views to provide clarity around a specific area of breast tissue
Visible abnormalities such as calcifications, cysts, fibrocystic tissue, dense tissue, fibroadenomas
Short-term follow-up monitoring of abnormalities

Follow-up imaging after breast cancer or the discovery of a high-risk lesion based on your surgeon's recommendation
How long does a diagnostic mammogram take?
A diagnostic mammogram typically takes 15 to 30 minutes to capture targeted images of the breast. Appointments, which include both a diagnostic mammogram and an additional diagnostic procedure, such as a biopsy, may last longer.
What are the symptoms and signs of breast cancer?
While every woman's breast tissue is different, there are important signs of breast cancer to be aware of. If you are experiencing one or more of these symptoms, contact your physician immediately for a referral. Many cancers have no symptoms at all, however, familiarity with your breasts will make it easier to identify changes.
Symptoms of breast cancer include: 
Lumps or nodules felt on or inside the breast
Changes in the size or shape of the breast, or unusual swelling
Nipple retraction or inversion
Redness or rash on the breast
Pain in the breast or nipple
Dimpling of the breast (similar texture to an orange peel)
Swelling of the lymph nodes, particularly around the collar bone and in the armpit. Irritated or itchy breasts, or flaking of the skin
Increased breast size or shape in a short period of time
Changes in touch (may feel hard, tender or warm)
Nipple discharge (aside from breast milk) that ranges in color from clear to milky, yellow, green or red