Breast Ultrasound
A breast ultrasound is a non-invasive, radiation-free exam that uses sound waves to produce images of breast tissue. Ultrasound is often used as a supplemental breast cancer screening tool, following a mammogram, to get additional information necessary for a complete diagnosis. Ultrasound provides real-time imaging, which may be used in guiding procedures such as biopsies. Ultrasound can help a radiologist determine whether a lump or abnormality is fluid-filled, fatty, or a solid mass.
Image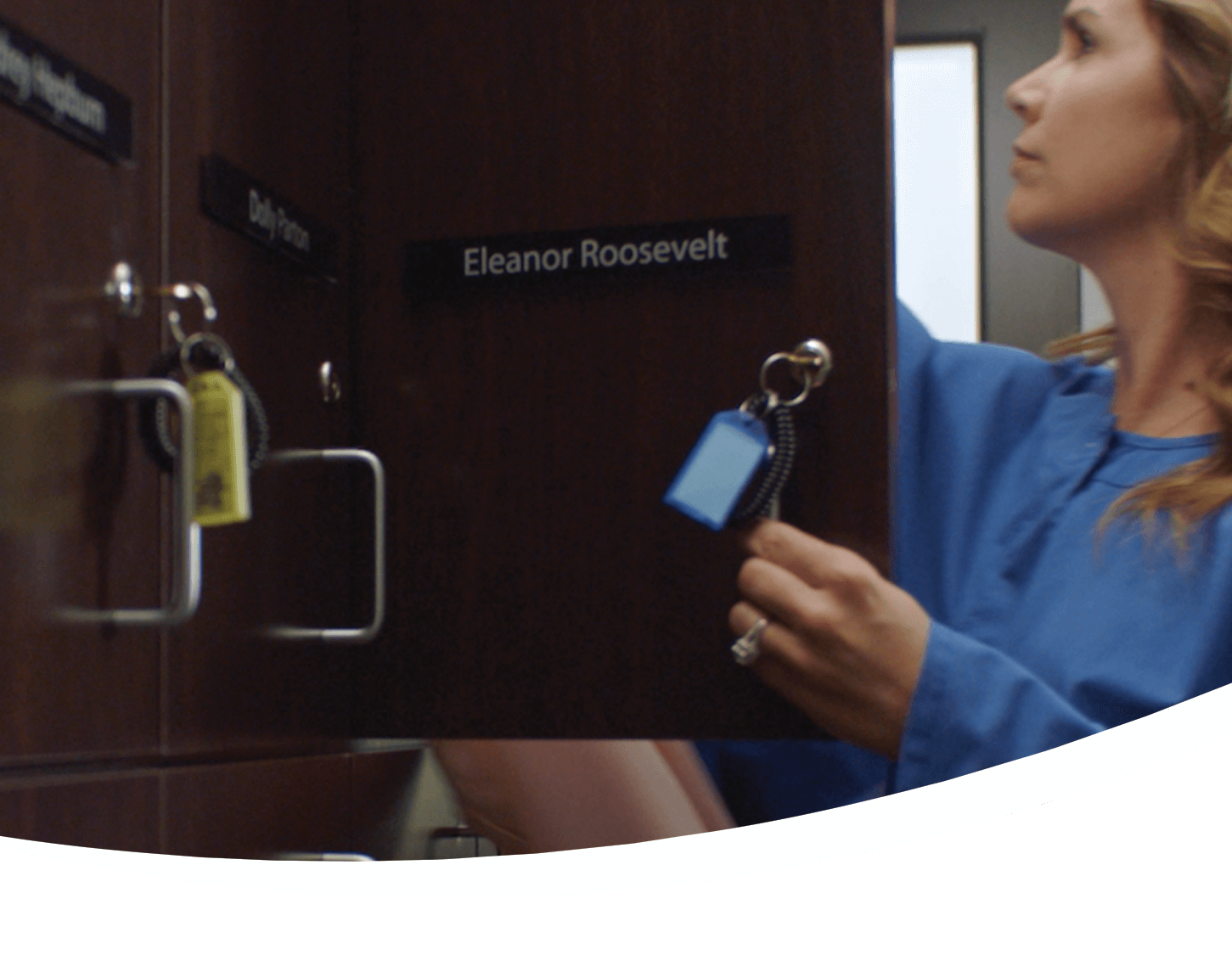 The Solis staff were very friendly. I appreciated the level of detail they asked me in regard to my family history. I'm a breast cancer survivor and was a bit anxious about going back for breast imaging. The staff, including the radiologist, were calm and supportive throughout my visit.

Melanie, Patient
Insurance Coverage
Many major insurance carriers may cover a breast biopsy as a diagnostic procedure. Check with your provider for details specific to your plan.
Don't have insurance?
All of our centers offer self-pay pricing for diagnostic services. Please call 469-398-4099 for more information. 
Preparing for your Breast Ultrasound
How to prepare for a breast ultrasound:
Wear a two-piece outfit, with a top and bottom. You will be asked to undress from the waist up, removing your bra and top. We will provide a cape for your privacy and comfort during your procedure

Do not apply any lotions, powders, deodorant or cosmetics to your breasts prior to your ultrasound, which can interfere with the accuracy of the screening

Ultrasound is non-invasive and you will be free to resume normal activities immediately following your exam
Please note:
If this is your first exam with Solis Mammography, bring your records or have them transferred prior to your appointment. Delay in transferring records can result in the delayed delivery of mammogram results

Please arrive 15 minutes prior to your appointment

If you have any questions prior to your appointment, please call us at (866) 717-2551
Breast Ultrasound FAQs
What is a breast ultrasound?
A breast ultrasound is a procedure that uses sound waves to capture images of the inside of the breast, breast tissue, or lumps and abnormalities that are present in the breast. Ultrasound is used as a supplemental tool for providing additional views of areas of the breast during the diagnostic work-up. Breast tissue may at times be better visualized using ultrasound technology. Breast ultrasound is a diagnostic exam and requires a physician's order to schedule an appointment.
How long does a breast ultrasound take?
A breast ultrasound procedure takes 15-30 minutes to perform, however, the appointment may be one hour or longer if a diagnostic mammogram is also needed. During your visit the technologist will capture images of your breast (or breasts). A breast radiologist will interpret the images and consult with you personally during your visit.
Why would I need a breast ultrasound after a mammogram?
You may need a breast ultrasound if the the breast radiologist would like additional information to complete the diagnostic interpretation following a mammogram. It may also be ordered if you have very dense breasts, if you are pregnant and have a concerning change in your breast, if you have a palpable lump, or if you are too young for a mammogram.
Is a breast ultrasound better than a mammogram?
Ultrasound is not a substitute for annual mammograms, but rather is used as a secondary supplemental diagnostic aid in addition to a screening or diagnostic mammogram. Mammography is the most effective breast cancer screening method and is proven to increase the chance of survival through earlier detection.
What does a breast ultrasound screen for?
A breast ultrasound can be used to detect cysts, benign lumps, dense breast tissue, and cancerous masses. During biopsies, providing image guidance in locating a mass in the breast.
Is an ultrasound necessary for dense breasts?
An ultrasound may be necessary for identifying lumps or abnormalities that can be hidden within highly dense or fibrocystic breast tissue.
Can a radiologist tell if a lump is cancer on an ultrasound?
An ultrasound can help discern whether a lump in a breast is a cyst (a fluid-filled sac) or a solid mass, which may need further evaluation with a biopsy or requires monitoring. A breast ultrasound can also help determine the positioning of a mass, and is frequently used to provide image guidance during a breast biopsy.
What can you expect during a breast ultrasound?
You will lie on your back on an exam table and may need to raise your arms above your head. The technologist will put a clear, warm gel on the area to be examined. The ultrasound transducer will be pressed firmly against the skin for imaging. After the exam is complete the breast radiologist will review your results with you.