Expertise
Why is it important to know your breast density?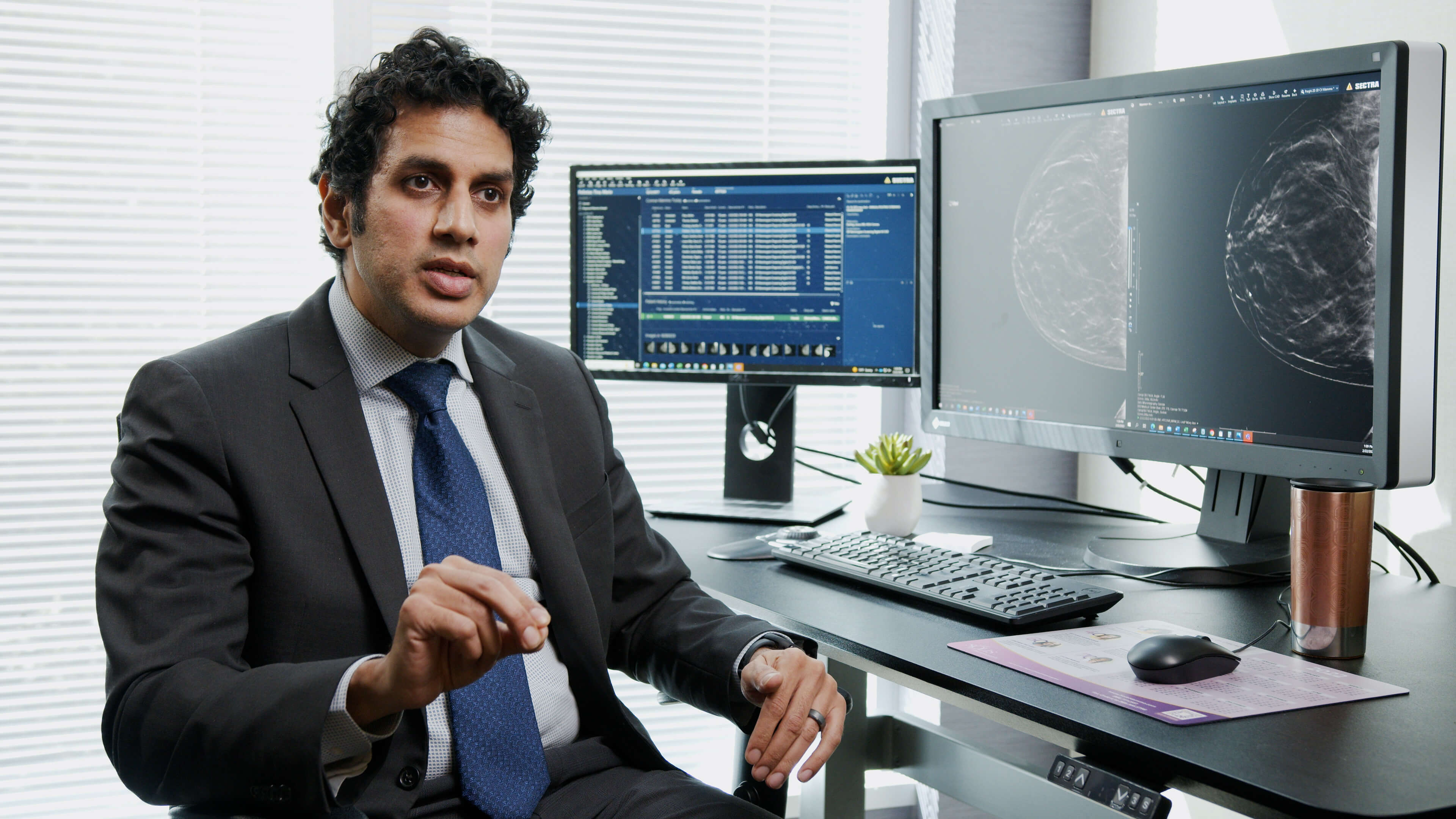 Dense breast tissue increases your risk for breast cancer and can only be identified through an annual mammogram.
More public attention has focused on breast density in light of a new federal requirement that patients be notified if they have dense breasts, which increases risk for breast cancer.
Dense breasts have more glandular and connective tissue than fatty tissue. Breast cancer more commonly develops in dense tissue, and it's more difficult to detect cancer in dense tissue on a mammogram.
"Not all women are the same and not all breast tissue is the same. Women can have variable degrees of dense tissue. Some women have almost no dense tissue. Some women have mostly dense tissue. Dense tissue shows up as white spots on a mammogram, which can be challenging because cancer also appears as little white spots."
- Chirag R. Parghi, M.D., Chief Medical Officer
Breast density is divided into four categories (A, B, C and D) that range from almost entirely fatty to extremely dense. The new federal regulations require that patients be told that their breasts are dense or not dense: 
Categories A and B are not dense
Categories C and D are dense
About half of women 40 and older have dense breasts. Often, dense breast tissue is inherited. Breast density changes over a woman's lifetime and is a characteristic that can only be identified through an annual mammogram. One of the most important reasons that a woman should have a baseline, or first mammogram, at the age of 40 is because it establishes whether or not she has dense breast tissue.
The majority of Solis Mammography centers use AI software with our 3D imaging platform, which offers the most accurate screening for breast cancer, particularly in women with dense breast tissue. AI provides an objective breast density assessment and flags areas of the mammogram that are potentially cancerous, which the radiologist can examine more closely. 
Solis Mammography recently participated in a massive study that showed 3D mammography is better at breast cancer detection than standard 2D mammography alone, especially for women with denser breast tissue. 
"We've been a pioneer in the use of 3D mammography, which is a cornerstone of our screening platform. Integrating AI with 3D mammography supports our mission of earlier breast cancer detection, which means better outcomes for patients."
Typically, having dense tissue does not mean you should automatically undergo supplemental screening in addition to an annual mammogram. Density is one of many risk factors for breast cancer, which also include family history and genetic mutations. It's important to speak with your health care provider to assess your overall risk for breast cancer and determine the best screening plan for you.
Enjoy the peace of mind that comes with the comfort, convenience and accuracy of getting your annual mammogram with Solis Mammography. Schedule here.